May tour to Door County report
by Al Wagner, Milwaukee Region Tour Committee chairperson
Friday morning, May 19, 21 PCA-Milwaukee Region members in 11 Porsches, met at a restaurant in downtown Cedarburg for the start of our long-weekend spring tour to Door County. The drivers' and navigators' meeting began at 8:30 a.m; we departed Cedarburg about 9 a.m.

We drove a combination of backroads and main roads to just west of Manitowoc, where we entered I-43 for 19 miles, to access the Interstate Rest Area just south of Denmark (Wisconsin, that is), about 1-1/2 hours after our departure. After a 15-minute rest stop, we exited I-43 in Denmark, again following a combination of backroads and main roads, constantly edging closer to Lake Michigan, which we first spotted in Algoma. We arrived in Sturgeon Bay about 12:15 p.m., in time for our lunch at Stone Harbor Resort. One couple who had an early morning business meeting, left later, drove a more-direct route and met us at lunch. Lunch marked the end of our group drive.

Afterwards, some folks drove a direct route to our final destination, while others drove a more-circuitous (and more-scenic) route along the Green Bay shoreline. Participants were encouraged to tarry a while in Egg Harbor, and/or Fish Creek, so that all 12 cars would not arrive en masse at our venue for the weekend, Eagle Harbor Inn in historic Ephraim.

We reconvened at the White Gull Inn in Fish Creek, for our 5:45 p.m. fishboil. We sat on the Inn's patio, with a beverage of our choice in hand, while we watched our fish (and potatoes) boiling in a large kettle, over a wood fire. At the end of the boil, the boil-master threw a cup of kerosene onto the fire causing a boil-over. As the kettle boiled over, it carried away the fish oil floating on top of the water. Everyone enjoyed the fish (a couple people had fried chicken), but there was no doubt that the highlight of the meal was the cherry pie ala-mode served for dessert.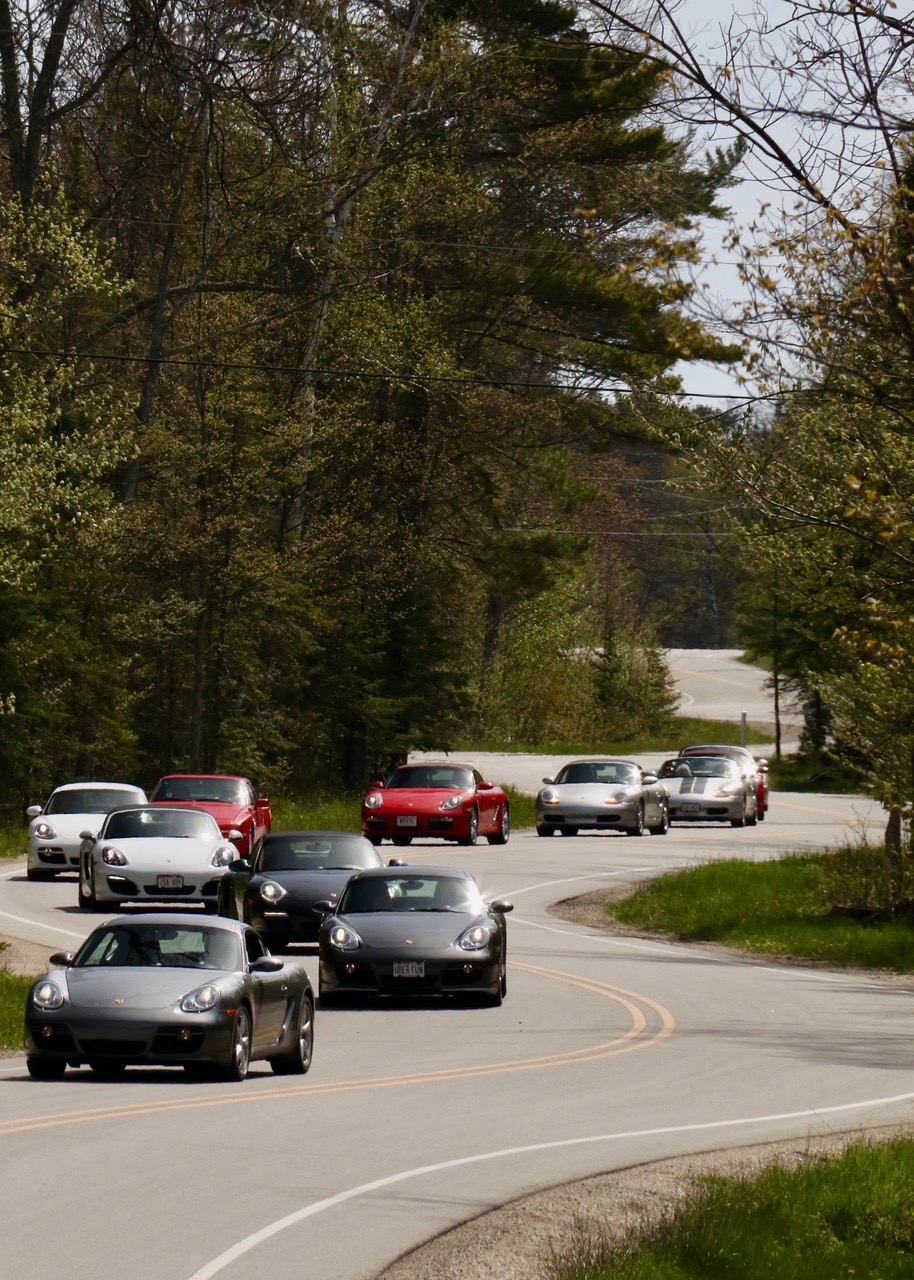 Saturday morning (which had a 100% rain probability in Thursday's forecast), actually dawned sunny. Those staying in B&B rooms (most of our group) were served breakfast at Eagle Harbor Inn. Those of us staying in multi-bedroom, or single-bedroom suites, walked to great breakfast spots within an easy walk of Eagle Harbor Inn, or drove back to the White Gull Inn for breakfast.

After breakfast, most participants indulged my request to participate in a photo shoot in the "esses" (a very curvy section of Highway 42) at northern tip of the Door peninsula (just west of the Washington Island ferry dock). I was dropped off to perch on a knoll, which I learned about from our Tour Committee friends, Jim and Kay Schustedt. The knoll gave a great perspective of the closely linked series of "S" curves. While I sat on a stump atop the knoll, with my camera and zoom telephoto in hand, Tony Quebbemann led the group of Porsches back and forth through the esses, making a total of two round trips, as I fired off a blast of 60 photos. After the photo opportunity, we headed to Sister Bay for some shopping and some nibbles at food stores, while the remainder of our group dispersed over the peninsula to do their own thing until our next scheduled event, 3:30 PM social time in the Iverson Room at Eagle Harbor Inn.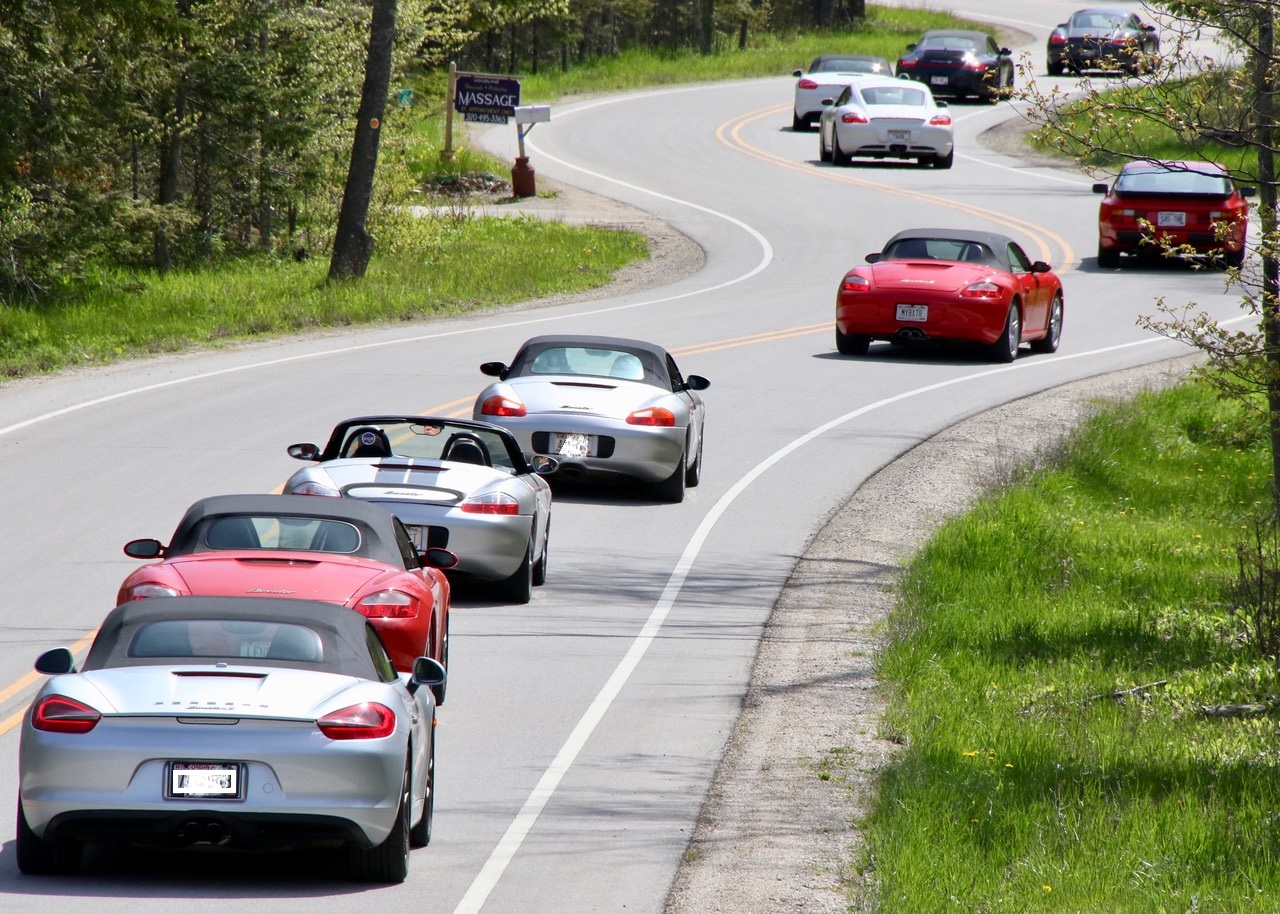 Everyone brought a beverage of their choice and snack food to share at our social time. The Eagle Harbor Inn staff had graciously built the start of a fire in the room's fireplace. All we had to do was to strike a match. Unfortunately, the flue damper was not open completely, and it got a little smoky in the room (yes, the fire alarm went off), for a while, until we figured out how the damper worked. The absolute highlight of our social time was an impromptu, and humorous, talk by our invited guest, Door County resident, and owner of seven Porsches, Robert Hawley, a member of the Fox Valley region.

Robert regaled us with stories about the Door County "car culture," and how he became the proud owner of a beautiful red 356, just a couple weeks prior. We first had contact with Robert when he invited us to view the cars in his Door County garage on Saturday afternoon. The show offer was contingent upon good weather, because he would have to wheel the cars outdoors for showing. Based on Thursday's 100% rain prediction for Saturday, it was decided to cancel the car show. However, Robert was invited to join us for our social time. We're so glad he came. As we were bidding Robert and his 356 adieu, the forecasted rain began.

After the social time, we headed to the English Inn in nearby Fish Creek for our 6:30 PM dinner reservations. Arrangements for our dinner there had been made by Tour Committee member, Pat Seroka. Pat and Linda fully intended to be with our group, but unfortunately, just a few days prior, the Seroka's red 911 Turbo Cabriolet, suffered a PDK malady which was not repaired in time for them to join us. Thanks go to Pat for making the English Inn arrangements, nonetheless. The English Inn had a long and varied menu, and favorable comments were heard by all our group about the venue and the food.

Sunday was an "on-your-own" day for all participants, with no official PCA activities on the schedule. Fortunately, the overnight rain stopped just in time for breakfast. Those in the B&B building again had a delectable breakfast at the inn, while others found great breakfast fare within Ephraim. After breakfast, participants made their way home, either following main roads, or following a pre-mapped more-scenic drive along the shore of Lake Michigan.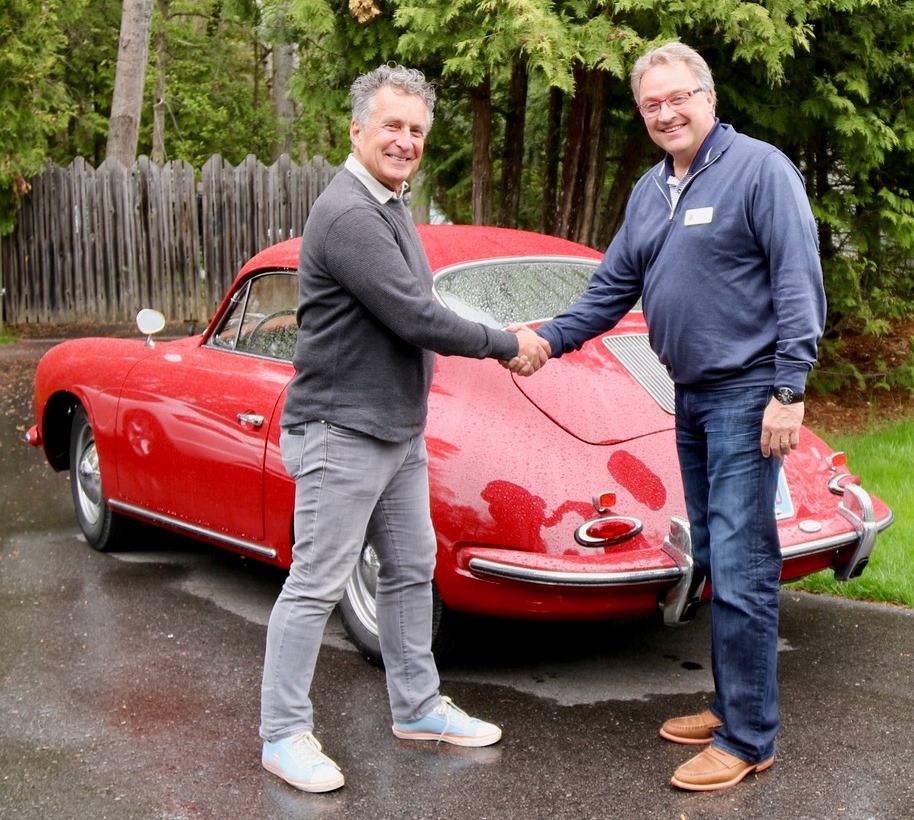 Door County resident Robert Hawley, left, Fox Valley Region member, is thanked by Milwaukee Region President Tony Quebbemann for joining the Milwaukee group for conversation during the group's visit to Door County.
Watch for more photos and participants' comments in the June Steinlifters.
Posted on Wednesday, May 24, 2017 9:28 AM, updated on Friday, May 26, 2017 9:54 AM
Return to List of Journal Articles