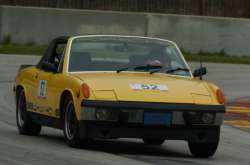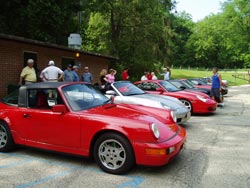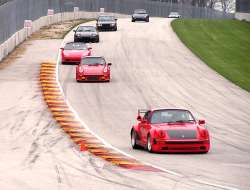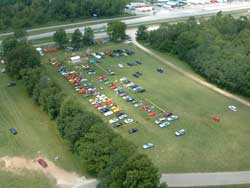 Our full Calendar of Events provides you with an easy way to see all the club events each month. Whether you're interested in just a particular type of event, such as Tours or Autocross, or if you want to get a view of everything that is happening, the Calendar of Events will provide that information to you.
Club events can be broken down into the following categories:
Event Reports
Porsches were gathered in one area of the showfield at the 2017 Show & Glow by the Lake in Veterans Park on Aug. 5. The event, open to anyone to show a car, truck or motorcycle, attracted several ...

The Elkhart Lake Vintage Festival will take place Sept. 15 - 17. The Osthoff Resort is the festival headquarters. The weekend event includes a driving tour, a car show on the Green, a dinner ...

PCA-Milwaukee Region will visit the Medical College of Wisconsin Crash Injury Research and Engineering Network Center (CIREN) on the grounds of the Milwaukee VA Medical Center Oct. 7. This is the ...

Note: As of July 25, we have 10 cars registered for this tour. That means we're halfway to our maximum of 20 cars. You are encouraged to register sooner, rather than later, to avoid ...

Tour leader Tony Quebbemann led 31 region members and guests on a driving tour to Elkhart Lake on July 22 to take in the street concours as well as dinner at the Lake Street Cafe. Photos by Al ...

Welcome to the Milwaukee Region Sunday August 27, 2017 PCA Autocross at Miller Park (Uecker Lot - Southeast Lot) in Milwaukee, Wisconsin. Event sponsor: Porsche Milwaukee North ...

SAVE THE DATES Have you been considering a long-distance road trip in your Porsche? Did you miss signing up for the Ashville Treffen to be held this September because it filled up immediately (BTW: ...

Central Wisconsin Region PCA Fall Tour 2017 Please join the Prellwitzs for a fun weekend along the Lakeshore with your Porsche the weekend of Sept. 29 – Oct. 1. The tour is limited to 20 ...

by Al Wagner, Milwaukee Region Tour Committee chairperson Friday morning, May 19, 21 PCA-Milwaukee Region members in 11 Porsches, met at a restaurant in downtown Cedarburg for the start of our ...

by Mike Wiviott In case you missed it – 28 of your fellow club members attended an Open House/Tech Session at International Porsche in Waukesha on Saturday May 6. The weather was cool but the ...

The major focus for us is to autocross your everyday Porsche (or other sports car). That's the message from Milwaukee Region Autocross chair Mike Bolton. Here are the details for the 2017 autocross ...

By Mike Bolton, Milwaukee Region Autocross Chair We have some big news about PCA-Milwaukee autocross in 2017. Thanks to the efforts of several members, we have secured the sponsorship of Porsche ...

Region members Mike Wiviott, Jeffrey Chang, Donna Daufenbach and Al Wagner took these photos at the April 15 tech session at Accumoto. Many thanks to the good people at Accumoto for hosting us, as ...

Plans are already under way for the region's annual holiday party. Advance planning is required to ensure we reserve a spectacular venue and our social committee has done just that. The 2018 party ...

You are invited to join other PCA-Milwaukee Region members on a one-day excursion to Racine to tour the SC Johnson campus featuring the Frank Lloyd Wright-designed Administration Building and ...

This is a courtesy posting. PCA and the Milwaukee region do not endorse this product. We are publishing as a resource for members. Pirelli tires

If you can't visit a shop that sells helmets required for our driving events -- DE and autocross -- and you opt to buy a helmet online, read this first.

(Updated March 2017) Performance driving requires additional protection, helmets. Helmets are required for anyone driving in a PCA autocross (AX) or driver education (DE) event. The Milwaukee ...

The driving season is here. It's time to think about joining in more region activities. Identify yourself as a member with a snazzy name badge. They're just $10, including shipping. Here is the ...

The September 2016 Steinlifters is published.