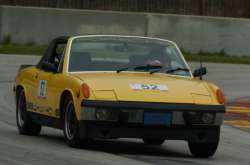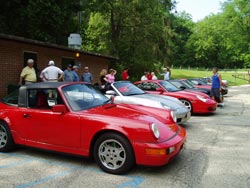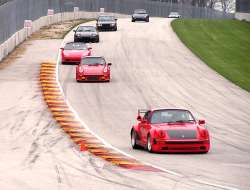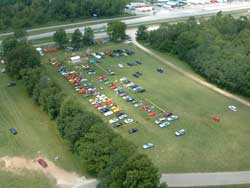 Our full Calendar of Events provides you with an easy way to see all the club events each month. Whether you're interested in just a particular type of event, such as Tours or Autocross, or if you want to get a view of everything that is happening, the Calendar of Events will provide that information to you.
Club events can be broken down into the following categories:
Event Reports
Porsches, twisty roads and Fall color in Wisconsin – what could be better The drive to New Glarus on Sept. 29 will have a drive within a drive as it features a follow-the-leader drive to New ...

Enjoy these photo albums from: The Luftgruppe event (all air-cooled Porsches) Lake Forest Sportscars The Exchange -- Porsche dealer in Illinois.

Update as of Aug. 23 -- notice about F1 ticket availability We have learned through some members who have attempted to purchase tickets for the F1 Canadian Grand Prix that tickets in the ...

Milwaukee Region PCA Swag Round 2 is now available Open to order 9/1/18 to 10/31/18 to meet the holiday deadlines Many of you have asked – and we are finally able to offer shirts and hats ...

Fall "Mystery Tour" of Manitowoc County Please join us Oct. 5-7, 2018, for a fun weekend enjoying the beauty of the lakeshore in autumn. Your hosts, Laura and Jamie Prellwitz of the ...

Join region members and friends for a Wisconsin tradition – a Friday Fish Fry at the Fox and Hounds, in Hubertus, Wis., near Holy Hill. Beautiful any time of the year, this area is particularly ...

by Gene Guszkowski, Concours committee chair The Milwaukee region's first concours competition in many years was a great success. The event was held within the 2018 Milwaukee Concours Show & ...

At the July 28 AX, 38 cars participated and everyone got at least 10 runs. Huge thanks to the AX Team Members that helped setup and tear down. Special thanks to Dan and Ken Ferguson, Ron ...

In May, region members enjoyed a driving tour to the Asheville, N.C., area. The July 2018 Steinlifters will cover the event in detail. Enjoy some photos here taken by several members ...

We are happy to announce the region now has golf shirts and baseball hats with the region logo. Place your order with Mike Wiviott via email or phone. Here are the details including pricing. ...

Second Sunday of the month, May through October. Details here. This is not a PCA- or Milwaukee region-sponsored event. Courtesy announcement.

Read this article by Motor Authority: https://www.motorauthority.com/news/1115359_why-can-some-engines-rev-to-9000-rpm

We use the PCA email program to send out announcements to our region members. A recent email blast indicated the following addresses as undeliverable. You can/should update your data in the ...

Is it your dream to drive the Nurburgring? To do so and do it well, check this out. Photo credit: Road & Track.

Approximately 20 region members gathered on Oct. 7 at a site in the Milwaukee area that is not known to the public. The site, the Medical College of Wisconsin's Crash Worthiness Lab, is a scientific ...

Cedarburg's Oktoberfest started for the Milwaukee Region Porsche Club of America on the morning of Friday, Oct. 13. Fox News (Channel 6) provided a promotional "spot" for ...

Dave Zimmer, long-time Milwaukee Region member and owner of Paintwerks in West Bend, hosted a tech session for members of the Milwaukee and Fox Valley regions on Oct. 21. The focus for the day was ...

The Common View – by Robert Dean, Fox Valley Region member Robert Dean is a regular contributor to the Fox Valley Region's newsletter, Whaletales. This is his article which appears in the ...

Porsches were gathered in one area of the showfield at the 2017 Show & Glow by the Lake in Veterans Park on Aug. 5. The event, open to anyone to show a car, truck or motorcycle, attracted several ...

Tour leader Tony Quebbemann led 31 region members and guests on a driving tour to Elkhart Lake on July 22 to take in the street concours as well as dinner at the Lake Street Cafe. Photos by Al ...