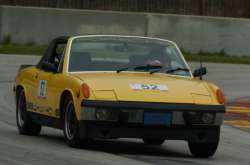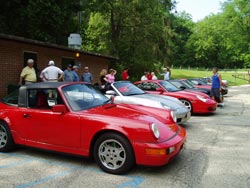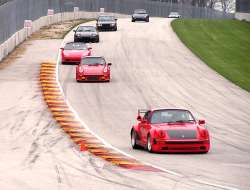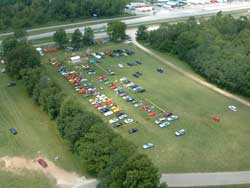 Our full Calendar of Events provides you with an easy way to see all the club events each month. Whether you're interested in just a particular type of event, such as Tours or Autocross, or if you want to get a view of everything that is happening, the Calendar of Events will provide that information to you.
Club events can be broken down into the following categories:
Event Reports
Three of the Porsche Club of America Milwaukee Region members have joined together to allow us to come and see their private garages. Some we have been to and others are new. Seeing these ...

Some members of the region participated in the three-event Winter Autocross Series at Road America recently. Here are some photos of Donna Daufenbach in action. Photos by Austin Boynton. ...

This event is full. A waitlist has been started in the event someone cancels before we head out. If you want to get on the waitlist, contact Al Wagner. Alan.Wagner@wi.rr.com In October, 2017, ...

Join us for the region picnic Aug. 18 – Bavarian Bierhaus Region members, their families and guests are invited to an old-fashioned summer picnic on the grounds of the Bavarian Bierhaus in ...

Coffee Travelers -- or Cars & Coffee as it is called in other regions of PCA -- is a monthly gathering at a local care or breakfast spot where members can show up without having to RSVP. Pull up ...

On Sept. 7, after we exercise our Porsches on the drive to Lake Geneva, owner and chef John Bogan (left) will teach you professional cooking techniques in the school's custom kitchen. ...

If you can't get to Kentucky to watch the ponies run for the roses in person, join other region members at Albanese's in Waukesha to watch the race and enjoy some food and fun. Date: Saturday, May 4 ...

Milwaukee Region PCA Driver Education REGISTRATION IS NOW OPEN!! Date: THURSDAY, Aug. 15 Road America Reserve your spot early. This event sold out the past two years. Registration ...

New visitor here? Join the Porsche Club of America and the Milwaukee region. Join PCA. The Milwaukee region is one of 145 regions in the Porsche Club of America across the U.S. and Canada. ...

This train is full. We cannot accept any more reservations. This tour on May 11 requires some early planning and commitment. We are planning a spirited drive to North Freedom, Wis., west of ...

Order by April 5, 2019, for delivery in May Many of you have asked – and we are finally able to offer shirts and hats with our region's iconic logo embroidered on them. The logo will be ...

Vintage Sports Car Concours d'Elegance, Downtown Elkhart Lake July 20 — driving tour and dinner, too Join other region members in a follow-the-leader style drive to Elkhart Lake where ...

The December Coffee Travelers met at Fishbones in Delafield. Attendees included: Tommy Lother, Matthew Priebe, Terry Royals, Gregg Eisenhardt, Tim Cahill, Dan Larson, Mike and Roxanne Wenzel, Bob ...

Save the date! Porsche Parade 2019: Boca Raton, Florida will take place July 21-27, 2019, at the Boca Raton Resort and Club in Boca Raton Florida. Parade activities include Concours, autocross, ...

April 4-6, 2019 -- Santa Barbara, Calif. American Riviera Registration opens Jan. 16, 2019. https://treffen.pca.org/index.cfm?event=main.showcontent&page=2 Sept. 4 - 7, 2019 --Vermont ...

Credit: PCA https://youtu.be/Xnsk3sHZFqQ

Milwaukee Region member Lynn Johnson attended the recent Rennsport Reunion and shared her videos and photos. Check them out: YouTube: ...

Editor's note: An abbreviated version of this article will be published in the October Steinlifters. This is the full article, written by Mike Wiviott Heaven is a place on Earth So as not to date ...

Road America announced its 2019 season.

Enjoy these photo albums from: The Luftgruppe event (all air-cooled Porsches) Lake Forest Sportscars The Exchange -- Porsche dealer in Illinois.