Passports-required tour report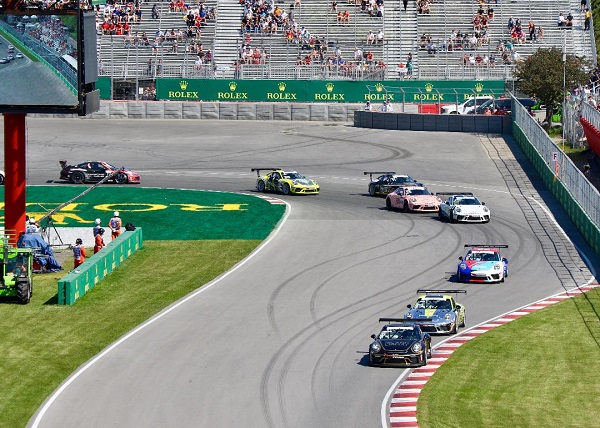 A Porsche GT3 Cup Race was held as a warm up to the Canadian Grand Prix. The Porsches were louder that the F1 cars!
By Al Wagner
The Milwaukee Region successfully completed its June "Passports Required Tour" of 2,500 miles through five states and two Canadian provinces.
The genesis of the trip was immediate past Tour Committee Chair Alan Wagner's desire to cross off another bucket list item: attending a Formula 1 Grand Prix. He was ably assisted in trip planning by current Tour Committee Chair Jim Lindenberg. Ultimately, 26 region members purchased tickets in a block at Circuit Gilles Villeneuve on an island in the St. Lawrence River, in Montreal. A few others, not interested in F1, toured the historic district of the city during the race. Most gathered at the end of the day in a historic district French Canadian restaurant, Modavie, for dinner, and then travelled back to our hotel on the Metro subway.
Then, it was on to even-more-historic Quebec City. This city, and our boutique hotel, Hotel du Vieux Quebec, in the historic district, were the highlight of the trip for the majority of participants. All region members enjoyed a guided walking tour of the historic district, even though for much of the tour it was pouring rain.
From Quebec City, the group travelled to Lake Placid, NY, home of the Miracle on Ice in the 1980 Olympics, in which the U.S. Ice Hockey team defeated the powerhouse Russian team. In particular, region members enjoyed the approach to, and departure from, Lake Placid on twisty Adirondack Mountain roads.
Next on the region's itinerary was Niagara-on-the-Lake, ON, CA. Most elected to take a tour boat ride up river, near to the bottom of the falls. Shortly after their boat ride, the ride was shut down due to the near-record-setting volume of water flowing over the falls combined with high winds. Their boat was the last allowed for the day. Also on the day's agenda for most was touring the town and visiting some of the large number of major wineries in the area.
To break up a very long drive back to Milwaukee from Niagara, most elected to stay their final tour night in Holland, Michigan. There, we enjoyed a group dinner in an appropriately German-themed restaurant, Alpenrose. In addition to enjoying good food, region members welcomed the opportunity to share their favorite experiences, venue preferences, and memories from the tour.
In all, over 30,000 car-miles were driven with only one minor mechanical issue with one car, a testament to the reliability of our cars, and one blown tire (it was only 2-weeks old) on another. Another bucket-list item successfully crossed off.
Here's what several of the participants had to say about the tour:
Once again we had the privilege of traveling with a great group of PCA members on a memorable drive to Montreal, Quebec, Lake Placid and Niagara on the Lake. Our lodging and dining accommodations chosen by Al Wagner and Jim Lindenberg were top notch as usual. The license plate in the attached photo is a perfect description of the entire event. It was indeed UBER FUN. -- Marty and Karen Gnatzig
What a great trip! For us it was as much about the people as it was about the cars and the Grand Prix. Learning more about the wonderful members that were part of the tour and the PCA Milwaukee region. Hearing the stories of the members' past cars. How they came upon them their current rides and the dreams of their future cars. Alan made sure we were all well fueled for the day's activities by choosing fabulous restaurants and menus for us. Poutine, fabulous crepes and let us never forget our continental breakfast delivered to our rooms in Quebec City. They were complete with fresh delicious croissants. We are considering making a recommendation to create a sub chapter to the Steinlifters newsletter and call ourselves the Forklifters for future trips! Jim and Susie Lindenberg
Montreal's highlight was the Grand Prix and Modavie restaurant. Quebec was the hotel, walking tour and strolling around the historic part of Quebec City. Lake Placid and the drive through the Adirondacks were spectacular. Niagara-on-the-Lake was gorgeous as were the Falls, wineries and scenery. The whole trip was spectacular; we appreciate all the planning that Al and Jim put into the trip. It certainly was evident from the trip overall, the lack of mistakes and the down-to-the-minute timing. Thanks to all who made it possible. Judy Weltsch and Tim Rehbein
It is interesting to reflect that your bucket list idea could be fully developed into 10 days of a lifetime memory for 30 people. Leadership, friendship and generosity brought to life by you were all part of a wonderful trip supported fully by Ellyn Wagner, Jim Lindenberg and Susie Lindenberg. It was evident that you painstakingly planned, Google-mapped, checked and re-checked our routes, stops and mileage. Jim added great ideas for events, restaurants and hotel stops. Ellyn and Susie were outstanding, completing leadership roles as navigator and co-pilot. We consistently enjoyed high quality venues at reasonable prices, tailored for group functions - something not easily achieved. Julie commented: This was a cruise on land with Porsches. We truly enjoyed the trip. Tony and Julie Quebbemann
Epic international tour by Dave and Laura Carlson:

First off, hats off to the fantastic planning and execution by Al Wagner and Jim Lindenberg. They selected fantastic destinations for all of us, and the tour would not have been the same without them.
Second, this tour, including the final drive home, lasted 10 days. If you have not taken a 10-day tour in your Porsche, you really need to do that. Nothing including track days will make you appreciate your Porsche in the same way as living out of it on the road for a period of time.
Finally, the tour de force.
Destination: Montreal F1. Since this is sort of what the trip revolved around, I wanted to see as much racing as possible, so we went directly to Montreal to watch qualifying day. The weather was perfect, and the racing action was surreal. The grandstand seating that Al selected was probably the best location for grandstand seats possible. Another hats off to Al for this. There was a lot of action in this area including a Ferrari burning down to the ground (isn't that what they all do anyway?). We took in some of Montreal after each day's track action was over. The night life in Montreal is interesting, but I would visit again. Probably sometime around Montreal Grand Prix 2020 time.
Destination: Quebec City. Thanks for selecting this destination. If you have not been to Canada, and want to go, then go to Quebec City. Beautiful little city with so much history, it could take several days to learn it all. The hotel was fantastic, none better anywhere. They brought our breakfast to our room in a basket each morning. Our room had a stone wall, and windows that actually opened making for wonderful night's sleep. We had a scheduled walking tour of the historic district which was really a nice idea. It was great to learn about the rich history of this quaint city. Aside from that, our time in Quebec was on-your-own, so in Steinlifters style, we sampled the many microbreweries in Quebec City. If you are in the area, I would recommend Korriganes.
Destination: Lake Placid. This destination could be worth another day of exploring, but probably not much more. It would have been nice to see the 1980 ice rink, but it was closed. We arrived early, due to becoming separated from the group, so we were able to take in the Veterans Memorial Highway and the elevator to the top of the mountain, and I am glad we were able to see this. You can see Vermont from here. Our stay was at a very nice hotel, with a fire pit and a bar (with a grouchy bartender). All in all, a great spot to stop on our travel, and one that deserves further exploration when in the area.
Side trip: Anchor Bar. A handful of us stopped on the way to get the Original Buffalo Wings. I had the suicidal wings. Great way to get a gut-ache and wash it down with a beer. I am glad we survived, for several reasons.
Destination: Niagara-on-the-lake. Back over the border. We went to the falls, and it was our first time. I am glad we stopped here so I could finally see the Niagara Falls. It is beautiful. We were told that the water was high, and there was a lot of water coming over the falls. I am glad that it was probably at its most impressive on the day we saw it. As for the town, we went, we saw, we left. I had to see it to say I saw it. If you like the Dells, you will like the town. This was another great choice for a destination.
Lunch Stop: Olives Casual Cuisine, Sarnia Ontario. I have left out the lunch stops on purpose, food is food. This choice was awesome. the food here was great. Try the crab cakes. The most memorable food stop on the tour.
Destination: Holland. We had our Capstone dinner here at Alpenrose. There could not have been a better place for all of us left to gather for a final reminiscing of the trip. The food was excellent here. The restaurant was beautiful... could not ask for more. Holland is in Michigan, but it is a neat looking town. I think it would be worth a weekend overnight trip (anyone wanna take a quick Porsche jaunt?).
Overall, this was a great trip. It was a great group of people, and a great group of cars. The destinations were well selected and made for a few miniature vacations-in-a-vacation. We shifted gears from the fast-paced Montreal and high-revving Formula One cars to the quaint, relaxing Quebec City to the commercial Niagara. It was a lot of fun to see so much in 10 days. I am not sure, but I don't think other clubs or PCA regions take extended tours like this. It is a great way to show your Porsche that you love it.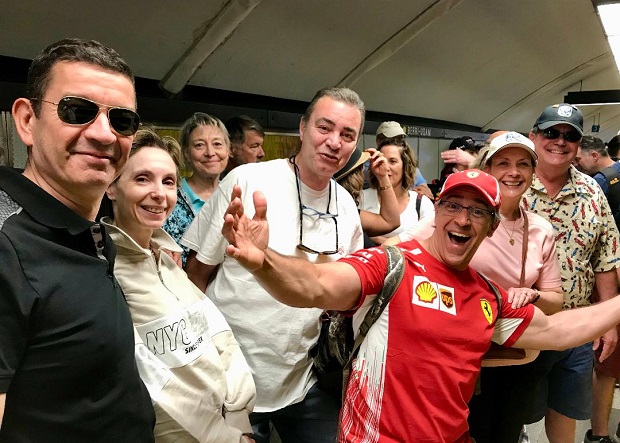 At the race(L-R); Philippe Guyony, Malory Guyony, Patricia Johansen, Dan Johansen (partly obscured), Tunch Turna, Julie Quebbemann (partly obscured), Dave Carlson (no question who he wants to win), Judy Weltsch, Tim Rehbein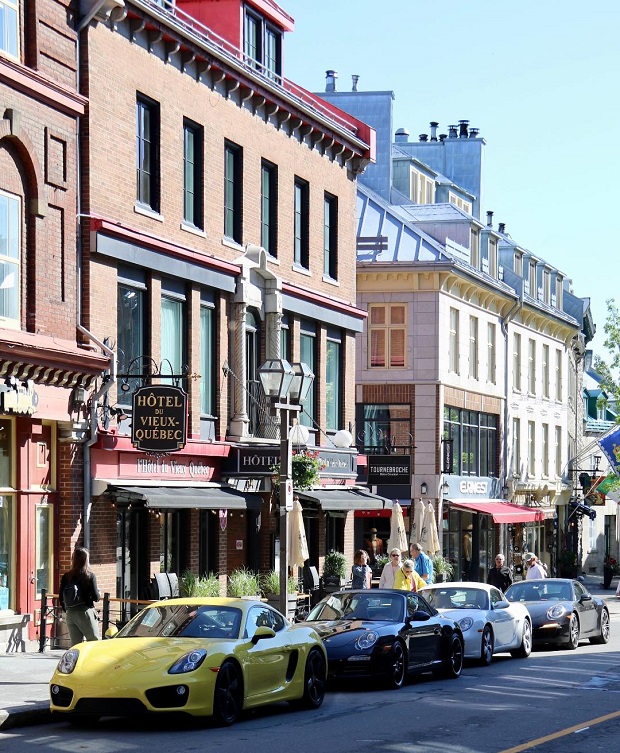 Porsches queued up in front of Hotel du Vieux Quebec, no doubt everyones' favorite hotel of the trip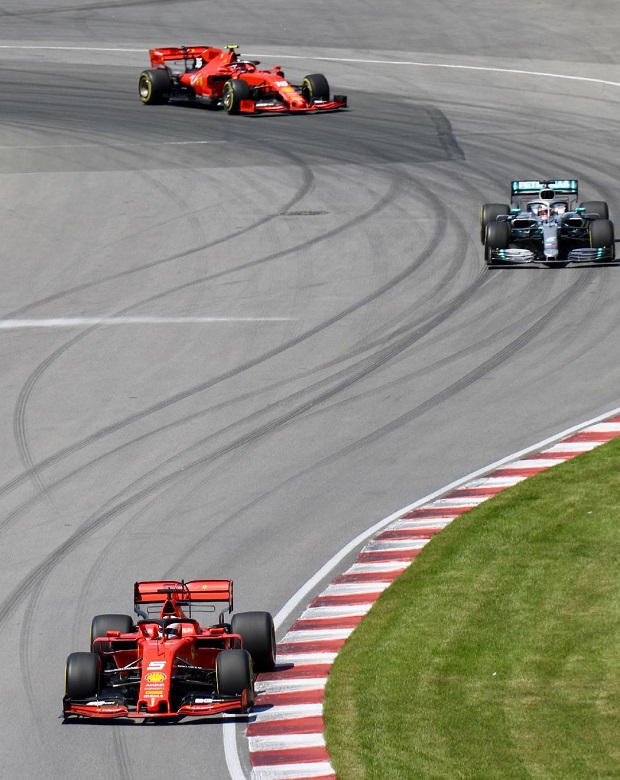 Lewis Hamilton's Mercedes is the "meat" in a Ferrari sandwich; Sebastian Vettel leads, Charles LeClerc follows. Vettel lost due to a 5-second penalty, with Hamilton declared the winner.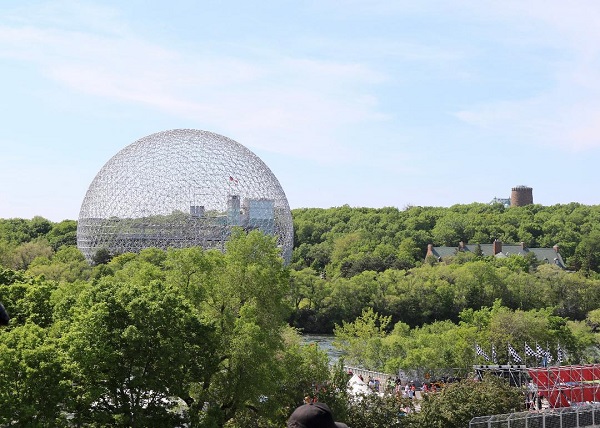 View from our grandstand of the Buckminster Fuller's Geodesic Dome which served as the U.S. Pavilion at Montreal's '67 World Expo.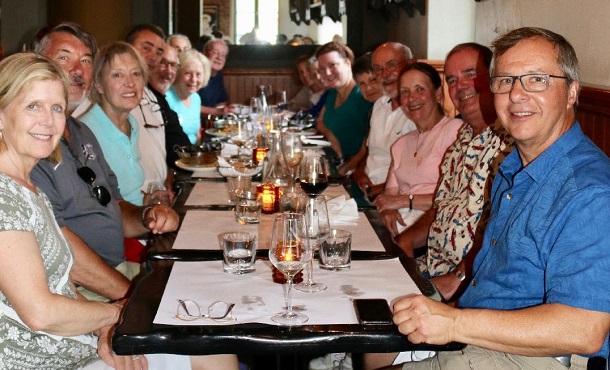 Many of us gathered at Modavie Restaurant in downtown Montreal after the race. (L-R): Patricia Franzel, Dan Johansen, Patricia Johansen, Tunch Turna, Alan Bloom, Peggy Bloom, Marty Gnatzig (obscured) Tom Mulligan, Barb Mulligan, Karen Gnatzig, Rena Turna, Ellyn Wagner, Alan Wagner, Judy Weltsch, Tim Rehbein, Roger Franzel.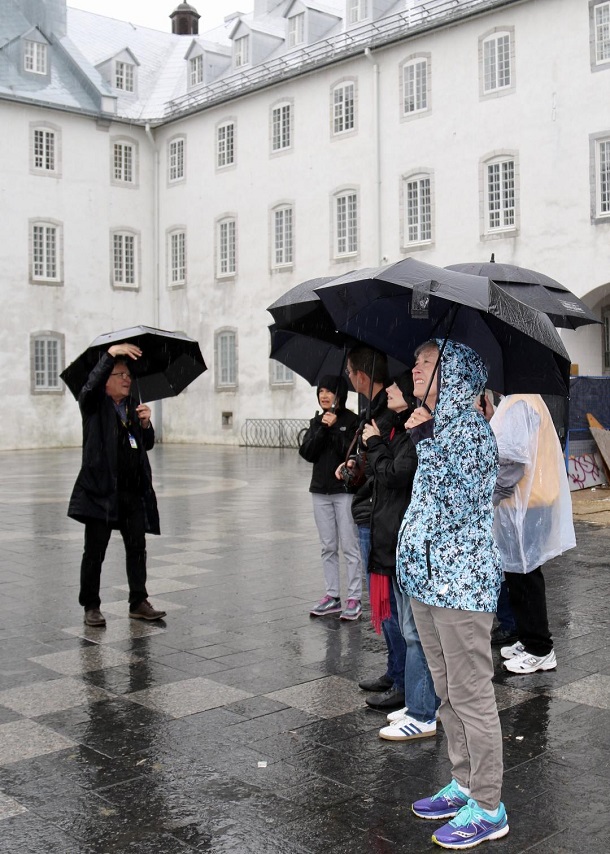 Walking tour of Quebec City with guide Jean-Francois, Ellyn Wagner, Philippe Guyony, Malory Guyony, Patricia Johansen, Tim Rehbein (obscured by umbrella).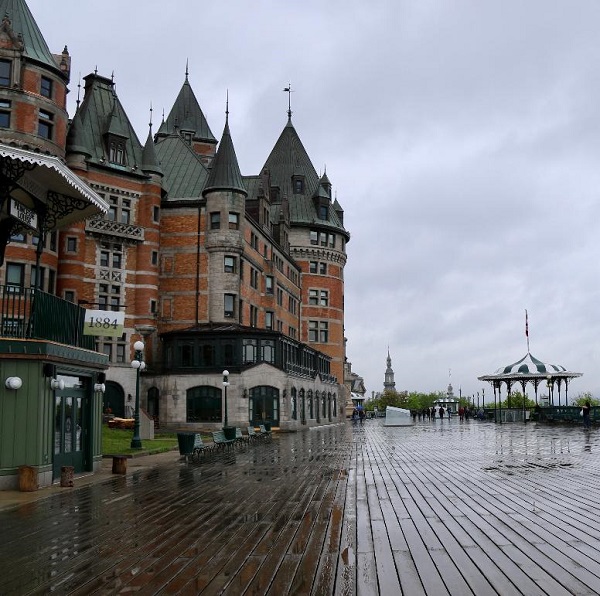 Historic Hotel Chateau Frontenac and Boardwalk along the St. Lawrence River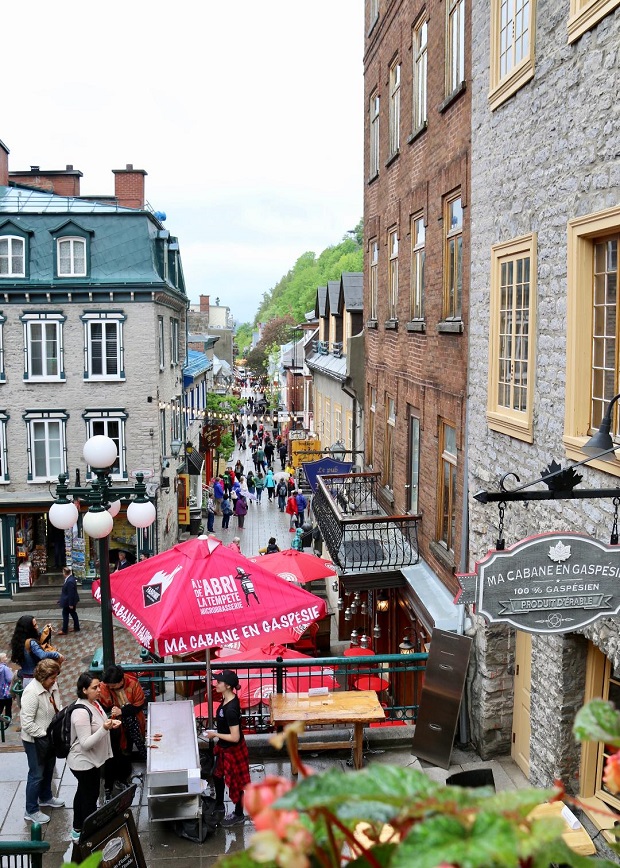 Historic Lower Quebec City, along the St. Lawrence River.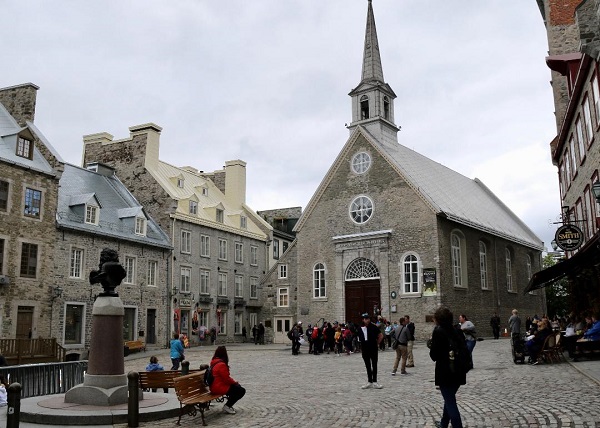 Notre Dame des Victories in historic Lower Quebec City.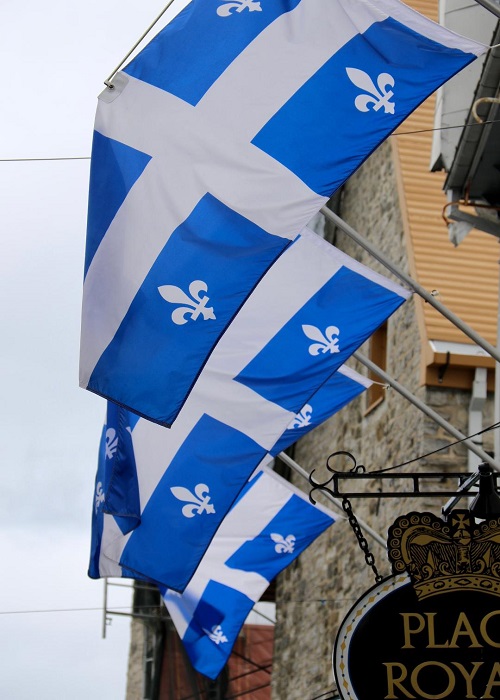 Quebec Provincial Flags flying over Quebec City.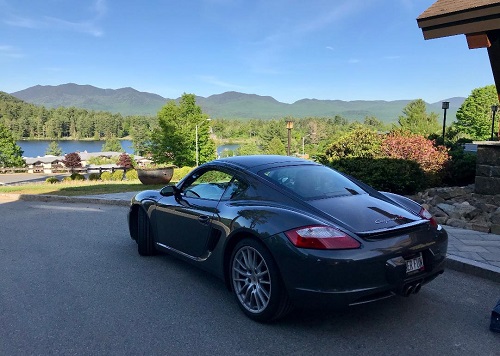 Nice view! Tony & Julie Quebbemann's Cayman S, and the scenery in the background at Lake Placid, NY, is not bad either.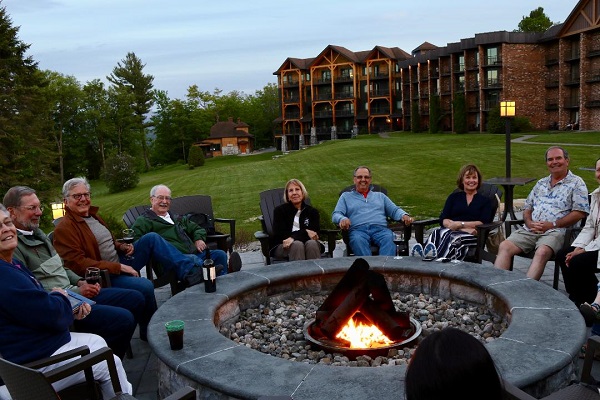 Sitting around the fire pit at Lake Placid. (L-R) Karen Gnatzig (partly obscured), Roger Shellman (Robert's brother), Robert Shellman, Tom Mulligan, Barb Mulligan, Jim Lindenberg, Susie Lindenberg, Tim Rehbein, Judy Weltsch (partly obscured)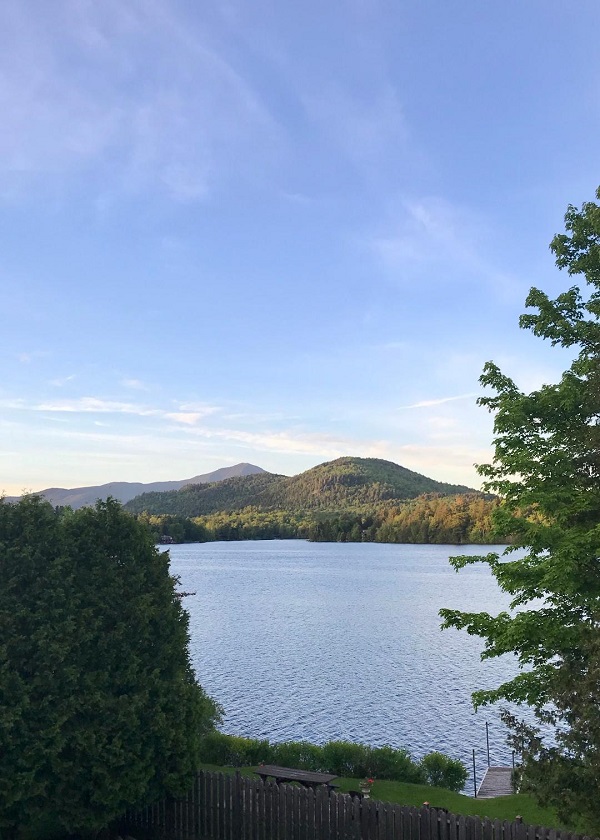 View of Mirror Lake from our Lake Placid hotel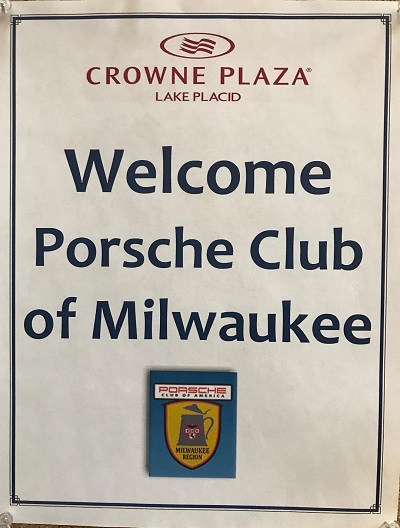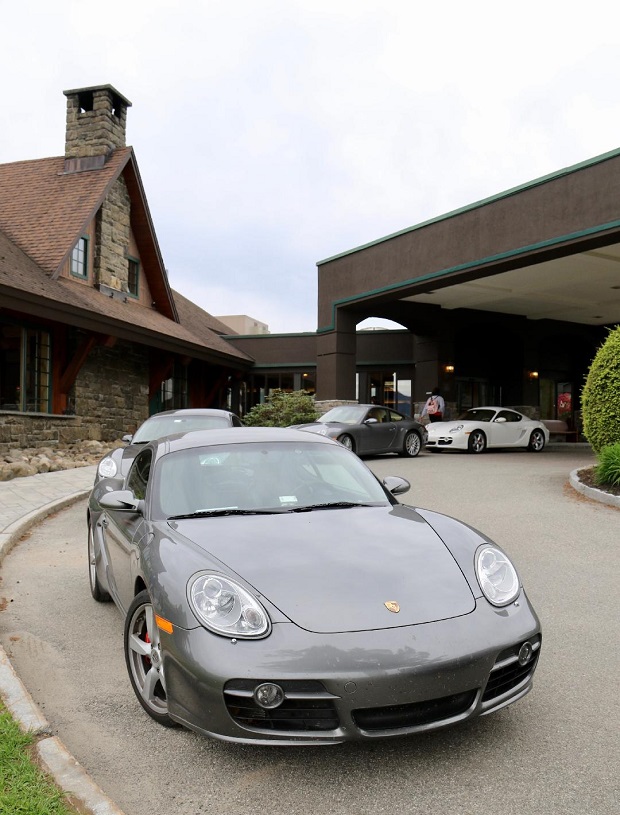 Time to load up and hit the road as we prepare to depart the Crowne Plaza Hotel in Lake Placid.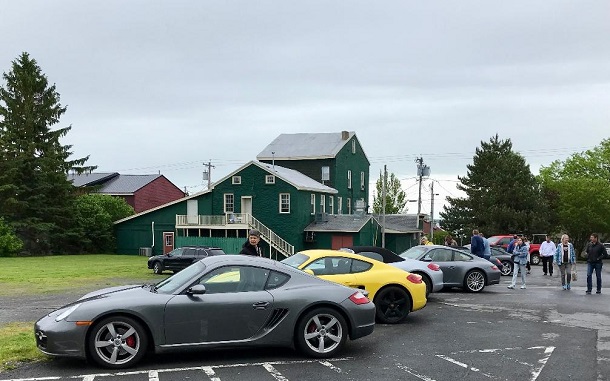 Heading back to the cars after lunch in historic Sackets Harbor, NY. A decisive naval battle was won here by the Americans in the War of 1812.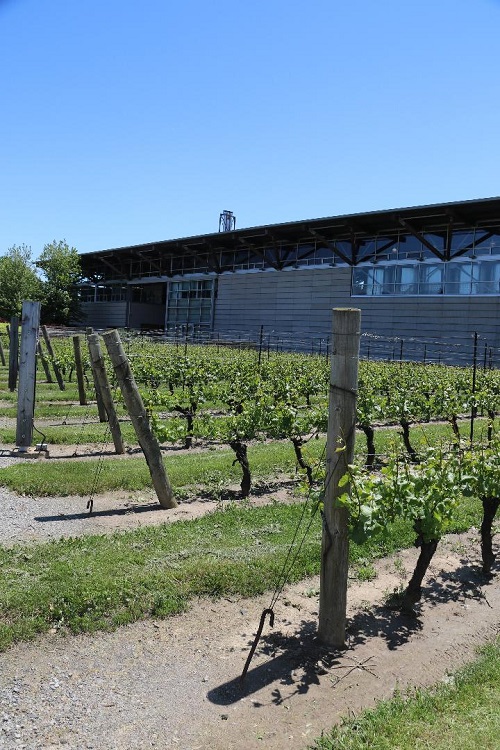 Entrance to Jackson-Triggs Winery, Niagara-on-the-Lake, ON, CA.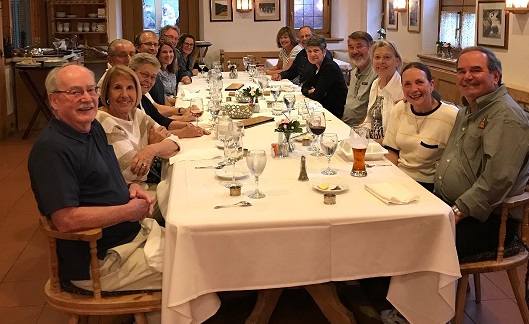 Enjoying a Tour-Wrap-Up Dinner at Alpenrose in Holland, MI. (L-R) Tom Mulligan, Barb Mulligan, Karen Gnatzig, Marty Gnatzig, Dave Carlson, Laura Carlson, Tony Quebbemann, Julie Quebbemann, Susie Lindenberg, Jim Lindenberg, Ellyn Wagner, Dan Johansen, Patricia Johansen, Judy Weltsch, Tim Rehbein.
All of the above photos were taken by Al Wagner.
To see more photos visit: https://pcamilwaukee.shutterfly.com/pictures/8629
Posted on Thursday, June 20, 2019 11:38 AM, updated on Friday, June 21, 2019 6:57 AM
Return to List of Journal Articles