Sign up for cooking school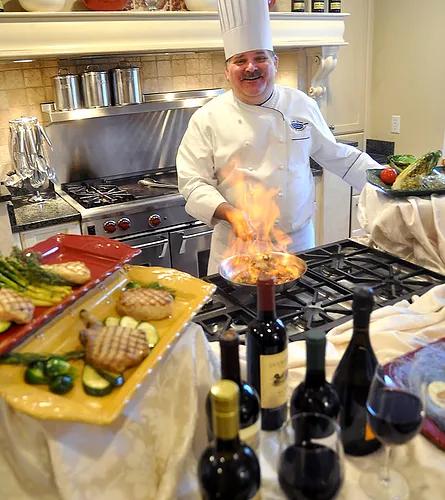 On Sept. 7, after we exercise our Porsches on the drive to Lake Geneva, owner and chef John Bogan (left) will teach you professional cooking techniques in the school's custom kitchen. Emphasizing culinary essentials, Chef John provides an opportunity for you to experience hands-on preparation and demonstrations, which allows participants to develop their own creative cooking talents. It's more than a meal it's a culinary event.
Upon arrival, the staff will greet our group and introduce you to Chef John.
To start off the event, our group will toast with a sparkling wine and enjoy Parmigiano popovers, while discussing the night's menu.
The group is then broken into teams, each receiving a recipe for their assigned course, a chef hat and an apron.
Here's the menu for the evening:
Sparkling Wine Reception
Three

Cheese

Popovers
Tasting wine while

cooking
Ratatouille -- Eggplant, Heirloom Tomatoes, Herbs de Province, Grated Gruyere
Grilled Caesar Salad
Caramelized Sweet Onions and Crispy Italian Sausage
Grilled Filet Medallions with

Brandy

Reduction
Farmers Market Vegetables, Butter Whipped Potatoes
Baked Apple Cobbler & Raisins and Walnuts, nutmeg ice cream
Next, Chef John will lead a group lesson in basic techniques used in the preparation of the event's dishes, as well as in safety and sanitation.
Then the fun begins, as each team begins to prepare their course under the guidance of Chef John and the staff.
Once the meal is prepared, you and your guests will have the opportunity to sit down and enjoy the fine dining portion of the event. Essentially, you will "break bread" together and enjoy a gourmet meal that was created by the entire group in the school's custom kitchen.
Chef John provides everyone with a packet of the night's recipes so that each dish can be recreated by you at your home.
Total event time: About four hours.
"One of the best experiences I've had. Chef John was so entertaining and very interesting to listen to. The staff was very helpful. The food preparation teams were paired up perfectly. And the food and wines were out of this world. What a great evening! I would highly recommend this." (A review on Facebook)
Cost: $113 per person. includes tax, tip, wine and dinner.
Please send names of participants, your email and contact phone number plus a check payable to PCA Milwaukee Region in the amount of $113 per person. Mail to: Jim Lindenberg, N27W30071 Maple Ave., Pewaukee, WI 53072
There is a limit of 34 participants and 20 people have already committed to attend.
It is first come first serve . So Let's get cooking and send in your information and check! It's a recipe for a good time.
ANY QUESTIONS CALL JIM AT 414-581-1878 or JIMSUANB@WI.RR.COM
Posted on Wednesday, April 24, 2019 12:00 AM, updated on Wednesday, April 24, 2019 12:52 PM
Return to List of Journal Articles