Event is full: 2023 Kettle Moraine to Mequon tour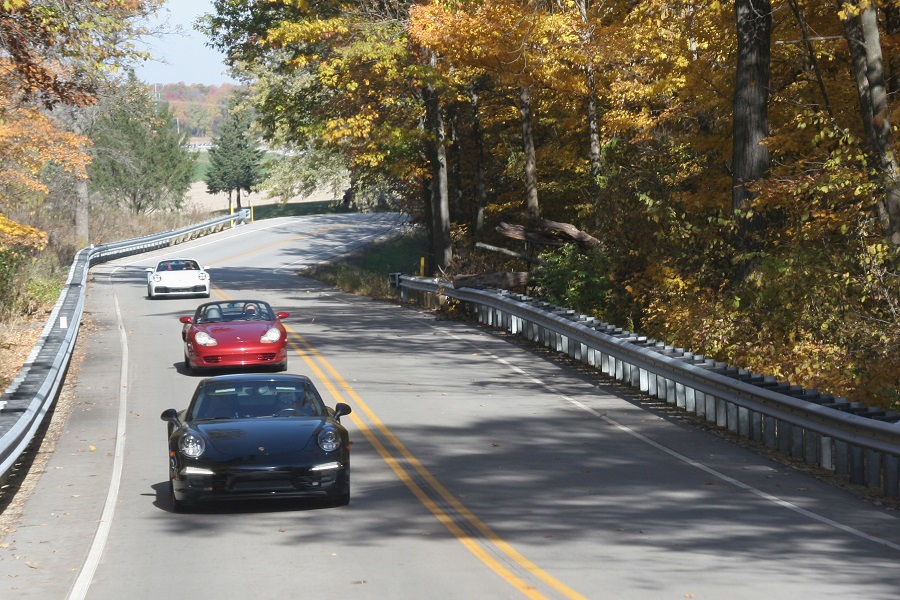 This event is full.
Wait list started.
Back by popular demand, the Tour Committee has planned another drive through the Northern Unit of the Kettle Moraine State Forest and its fringes. The date is set for Saturday, Oct. 14. The colorful foliage should be in the full splendor of autumn, which will make for a memorable day.
Jim and Kay Schustedt will be the tour leaders. This year's early morning rendezvous will be in Jackson, Wisconsin. After signing the waver forms and attending the mandatory drivers/navigators meeting, we will set off in our beautiful Porsches and meander the most scenic and twisty backroads this part of the state has to offer. Several of the roads are very twisty and challenging, while others are more open and serene. Our route will skirt several glacially-formed lakes, and traverse hilly land formations–remnants of the last ice age thousands of years ago. Our nimble Porsches were made for such roads. If you like working your way up and down through the gears, and negotiating tight corners, you'll love this route!
We have two strategically located morning rest stops before we leave the Kettle region, then we will wind our way through the scenic countryside and quaint villages till we reach our lunch destination. Our route will cover nearly 150 miles.
The drive will end at Foxtown Brewing in Mequon. Our PCA-Milwaukee Region group will have our own private dining room behind the bar in this beautifully restored mid-1800s brewery. We will be able to order from the full menu of food and beverages. Each person/couple will be provided with their own check.
This event is limited to just 20 cars, so sign up soon before all spaces are filled. Once the 20-car limit is reached, a waitlist will be started. In the event of a cancellation, the first person on the waitlist be given the opportunity to fill the vacancy. To register, please send an email with ALL the following information to tour leaders Jim and Kay Schustedt.
1) Your name (first & last).
2) The number of a cell phone that you'll have with you on the day of the tour.
3) The names (first & last) of any guest(s) who will be with you on the tour.
4) The names (first & last) of any minor (< Age 18) guests who will be with you on the drive, if any. The minor waiver must be completed and signed by both parents/guardians and brought to the event.
5) Whether you and any guest(s) plan to have lunch (please provide the total count for your car). If you say "yes," please honor your commitment. If there are several no-shows, we may lose the opportunity for future events at this lunch venue.
THIS EVENT IS FULL. TO JOIN THE WAIT LIST, please send an email with ALL the requested information (Items 1 -5) above, to: jkschustedt@gmail.com.
Participants will receive email confirmation, tour details (such as meeting place & time), and periodic updates. Adult participants will be required to sign a paper waiver at the start of the Drivers'/Navigators' meeting. Again, please be sure to bring a completed minor waiver signed by both parents if you'll have any minor participants with you on the drive.
We look forward to seeing you in October!
Posted on Wednesday, August 30, 2023 12:00 AM, updated on Wednesday, August 30, 2023 11:25 AM
Return to List of Journal Articles