Founding members recall early days of the region
The Milwaukee region is celebrating its 60th year in the Porsche Club of America. As part of our year-long celebration, region newsletter editor Beverly Jurkowski interviewed four of the region's earliest members to get a sense of what the region was like in its early years. The interview took place in the summer of 2019.
The Milwaukee region was founded in 1960, splitting off from the Chicago region when the number of Porsche owners in southeastern Wisconsin was growing. Two of the founding members of the Milwaukee region, Buzz Hahn and Harold Zimdars, along with Tom Spiegel who joined the region in 1963, and Hahn's wife Donna, reminisced about their early days in the club and about the cars they drove.
Hahn was the Porsche/Ferrari/Alfa Romeo salesman at Baumgartner Motors in Wauwatosa; Zimdars was the Porsche mechanic.
"The 356 coupes were the opposite of the Jaguar XJ120s. The Jaguars didn't have good brakes, didn't accelerate well, steered like a truck and always leaked," Hahn recalled. "The 356 did everything well; it was an immediate success." He drove a 1957 356A Speedster; Zimdars had a 1956 356 Speedster
Zimdars noted that working on the Porsches was a unique challenge. "These cars were assembled so differently than what I learned at school. They were hand made. Had to look at all the parts and had to have the ability to do technical math and measure all pieces to hand fit them together. It was a whole new learning process for mechanics then," he said.
Spiegel noted a 356 coupe was "500 big and small pieces of metal that was jig welded, hand-filed and hand-assembled. Production was slow. They only built eight cars a day," he said.
Did Porsche AG offer technical tips or help to the mechanics based in the US? "We often did better without them," Zimdars said.
Zimdars recalled when he and Hahn both ordered their personal cars from the factory through Baumgartner. When they came back to the states in 1960, they learned Baumgartner was no longer a dealer. The state of Wisconsin had pulled the franchise. "That was somewhat of a problem for Porsche owners, but they could still go to a Chicago-area dealer to get their cars serviced. It was a bigger problem for me as I was out of a job," he said.
In the early days of the region, participation by couples was the norm, regardless of the event. Buzz and Donna Hahn often showed up with their two daughters and the family dog in the Speedster.
Rallies, autocrosses, dinners and more were popular. Both men recalled doing ice trials on Pine Lake in Chenequa (near Hartland). A Hare and Hound rally as well as a Red Stocking rally, which was planned by the women in the region, were recalled as the type of events all members enjoyed in the early days.
"Participating in rallies and driving through the Kettle Moraine in our cars was fun," Spiegel recalled. The cars were made for the twisty roads and the area was not developed with subdivisions as it is today. "Traffic was light which made for spirited driving," Spiegel said.
They traveled to PCA events throughout the country. The Hahns recalled driving a Cadillac and towing their 356 to Aspen, Colo., in 1978. They almost ran out of gas on that trip and have vivid memories of white-knuckle driving over the Continental Divide in the snow-covered Rocky Mountains while trailering their Porsche.
Hahn and Zimdars both competed in SCCA races at Road America in their Porsches as did other members. "I particularly liked the speed events," Hahn said. "He was a hotshot driver and even drove a 550 Spyder," Donna Hahn said. Zimdars drove the SCCA racing circuit for 10 years. He was the F production champion one year.
After his time as a mechanic at Porsche and independent shops, Zimdars later opened his own dealership in West Allis (not affiliated with Porsche).
"When I closed my shop, I had a lot of miscellaneous parts leftover. I decided to have an auction for club members to acquire needed parts," he said. The group always had fun with a little mischief thrown in for good measure. Member John Hayden, serving as auctioneer, auctioned a dipstick he claimed was in the car that Zimdars drove to a SCCA championship. That dipstick soon became legendary and was displayed like a trophy at region events in the coming years.
It turns out the dipstick wasn't from a championship-winning Porsche but rather Hayden took it out of his own car.
Spiegel noted that his Ruby Red 1959A 356 coupe was the family vehicle in his early days as a Porsche owner and member of the club. He first saw 356s running on the streets of Elkhart Lake in 1951. "It looked futuristic, like it was from another world," he said. The popular MGTC looked archaic in comparison, he said.
He bought his first 356 in 1959. It was used but had been well maintained. "After work I came home and Jan, my wife, would jump behind the wheel and take the 356 to the studio where she taught ballet. We did errands in the car as it was the only car." He noted that today, with the diminishing number of 356s – estimated to be around 20,000 -- still in good running condition and absence of parts, few owners take chances driving them every day. Some do, of course, but most don't. "They're such a key part of the brand's wonderful history; we want to hold onto the past and Porsche's legacy," he said.
Spiegel outlined the 356-model lineup. The first 356 prototype model was introduced in 1948 with a mid-engine powerplant and was built in Gmund, Austria. It was replaced the next year with a coupe body. Fifty were built with aluminum bodies. The models known as pre-A were produced in Stuttgart in 1951 and 1952. The first full-scale manufacturing plant produced 8,000 cars in 1952. The 356A was produced from 1955 to 1958. The 356B was introduced in 1960 and the 356C in 1964. The 1965 model was the last year of the 356. For one year, 1958, there was a Convertible D, which replaced the Speedster.
In addition to Hahn and Zimdars, the founding members who bravely set out in 1960 to form the Milwaukee region included: Bob Claypool. Andy Passon, Gerry Tannenbaum, Bob Schoessow, Bill Crowley MD, Ray Schok, Mike Chinnis, Jack Lange, and Rae Reuss.
Sixty years later, our region boasts of having 601 primary members along with 365 family or associate members. We are all grateful to the founding members for their vision and enthusiasm.
Check out the region leadership page for a listing of region presidents from the beginning to today.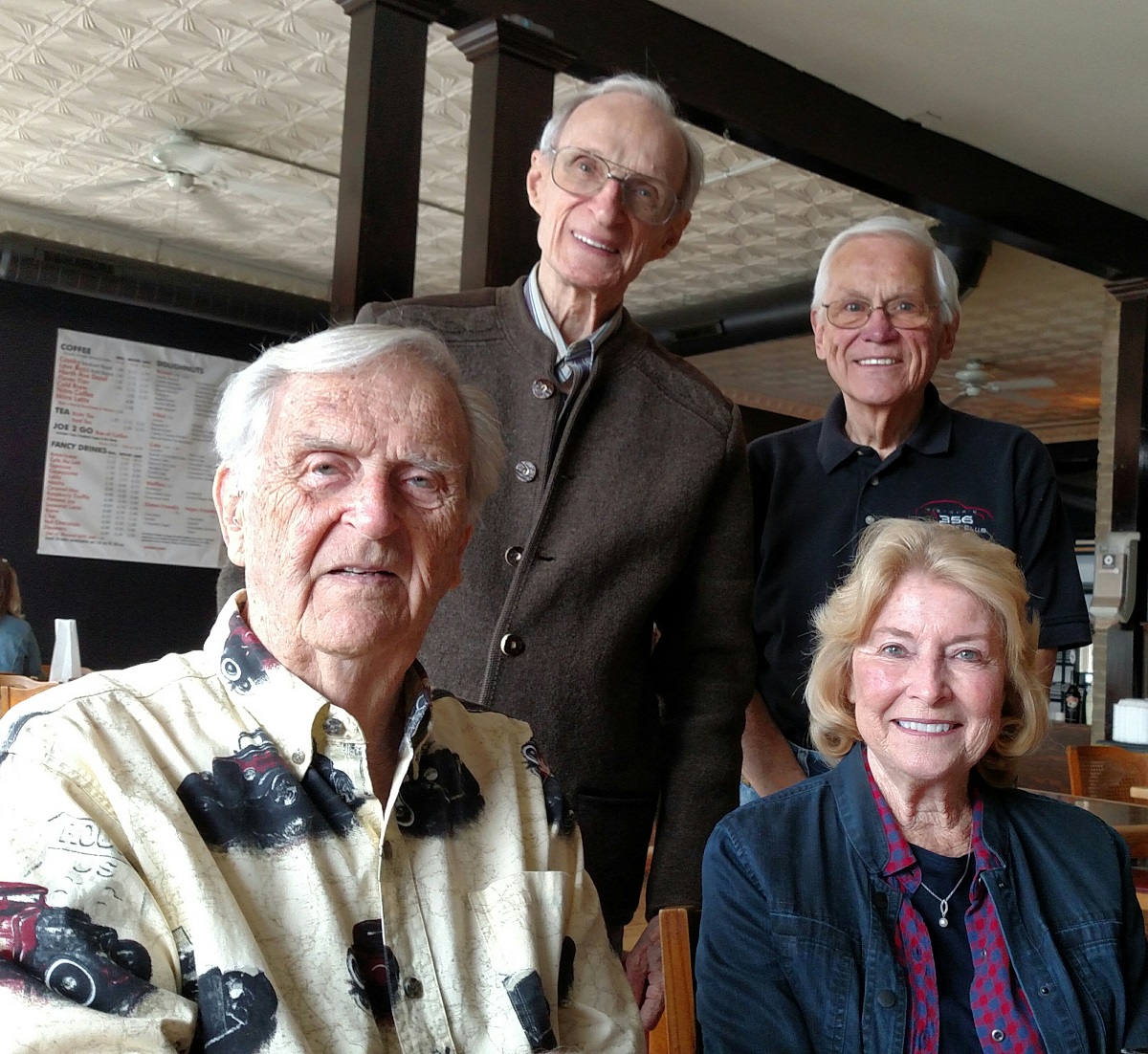 Left to right: Buzz Hahn, Hal Zimdars, Tom Spiegel and Donna Hahn.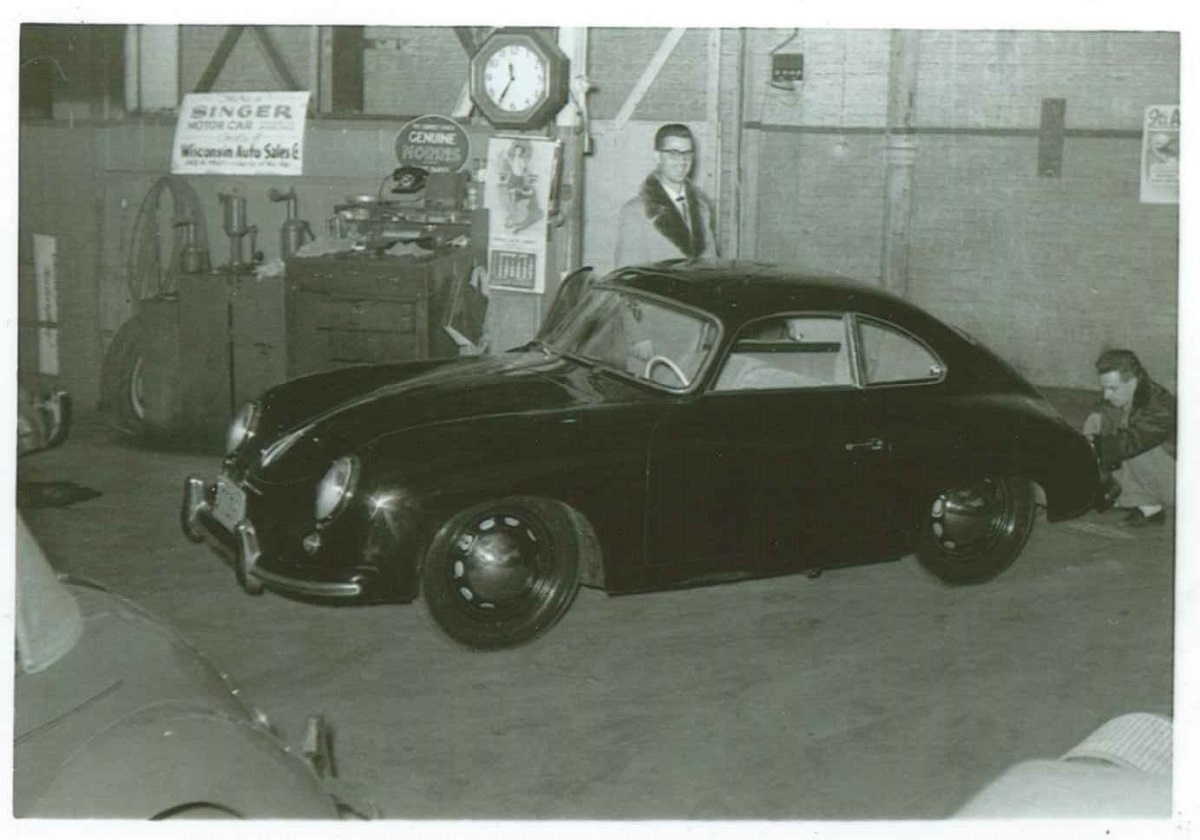 Hal Zimdars (kneeling behind the car) works on a customer's 356 in his early days as one of the area's first Porsche mechanics.
Posted on Friday, April 3, 2020 12:01 PM, updated on Wednesday, September 21, 2022 2:16 PM
Return to List of Journal Articles