Take a look at the vehicles and Porsche-related items being offered by your fellow members.
FOR SALE: DRM series wheel spacers
21mm (1 Pair), by H&R. Are you looking to push your wheels out for a better look. For $50, you can get the look you want. These spacers bolt to the hub with existing bolts and the wheel is then bolted on the spacer with special nuts (included). They fit on most all Porsches.
Email TRoyals991@gmail.com with any questions.
FOR SALE: Roll bar for Boxster
Need help passing the broomstick test in your Boxster (986)? This extender adds a couple of inches to your installed rollbar and your convertible top will still function. Comes with all necessary hardware. $450.
FOR SALE: TechArt Formula 1 20-in. wheels
No scratches or rash, tires 2000 miles on Hankook tires from Tire Rack, spacers for rear wheels included. These were dealer installed on my 2006 Cayman S for $10k. Retail about $6,500. On sale for $3,500. They are at Auto Clinic in Neenah. Sold the car. More photos available. They will fit other Porsches; not sure which ones. $3,500 wheels, tires and spacers. Bob Hawley 920-252-2544. Pick up only.
FOR SALE: 1987 924S
2+2 Coupe, 2.4L engine. Fun to drive sports car, runs well and has some minor cosmetic defects, 3k put into engine 1,000 miles ago - refreshed with new seals, gaskets, wires, etc. (have receipt). 95,000 miles
$6,500 OBO - NEED TO SELL - no more garage room. Email or call for more photos.
262-720-8278
dwholean88@gmail.com
FOR SALE: 2016 911 Carrera Black edition
17,500 miles. 7-speed manual. Jet Black Metallic exterior, black interior.
Extras include voice control, multi-function steering wheel, and sunroof, car cover and battery tender. Original owner, no accidents, nonsmoker, no track. Stored winters . LED PDSL +lights, power 14-way leather seats, Bose, PCM, 20" Turbo wheels, Park assist with reversing camera, Auto dimming /heated side mirrors.
$71,800.
Contact: Robert Shellman, 262-227-1947, robertshellman@att.net
FOR SALE: 1987 944
Original owner. 110,000 miles. All service records and wheels. Driving with larger 17-in. wheels and summer tires has made driving a lot more fun with a distinct improvement in handling. The paint is original and there have not been any accidents. The timing belt and other important maintenance repairs were made at 93,000 miles.
A dust cover is included and nice sheepskin seat covers are available.
$7,500. Email for more photos.
Contact Jeff at schenckjw@gmail.com
Region name badge
Order your region name badge.
https://www.porschepark.org/files/cms/0/98-region-name-badge-1593345903.pdf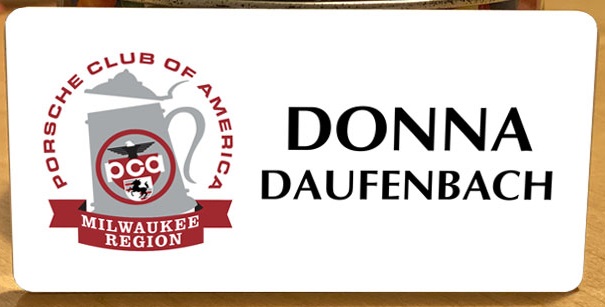 FOR SALE: 914-6 GT custom-built engine lid
Custom-built 914-6 GT Engine Lid
Similar to what was used on the factory GT race cars for better engine ventilation
Price is $375
1-262-366-7328 (call or text)
FOR SALE: Back issues of Panorama
Full years of Panorama: 1970, 1980, 1985, 1986, 1988, 1993, 1996, 1997, 1998, 2001, 2003, 2004, 2005, 2006, 2007, 2008, 2014, 2015, 2017. $100. Free pick up in Waukesha or add $225 for shipping.
Contact Frank Stockinger, 262-547-5564 or fstockinger@wi.rr.com
New region webstore for wearables
The region's webstore is now live. Order online and have your items shipped directly to you.
BUY, SELL OR TRADE ANY PORSCHE-RELATED ITEM
PCA members can advertise for free to buy, sell or trade any Porsche-related item. The ad will run for three months, or as long as needed.
Non-members can use the classifieds for a fee of $30 for three months. Submit the ad via the site here. Nonmembers should contact the webmaster for the process to submit payment.
Milwaukee Region has a Facebook page