Air-cooled, water-cooled and more covered at IA tech session

by Mike Wiviott
In case you missed it – 28 of your fellow club members attended an Open House/Tech Session at International Porsche in Waukesha on Saturday May 6. The weather was cool but the sun was out and so were the Porsches…. See the pictures to get an idea of the great variety of cars we had on site.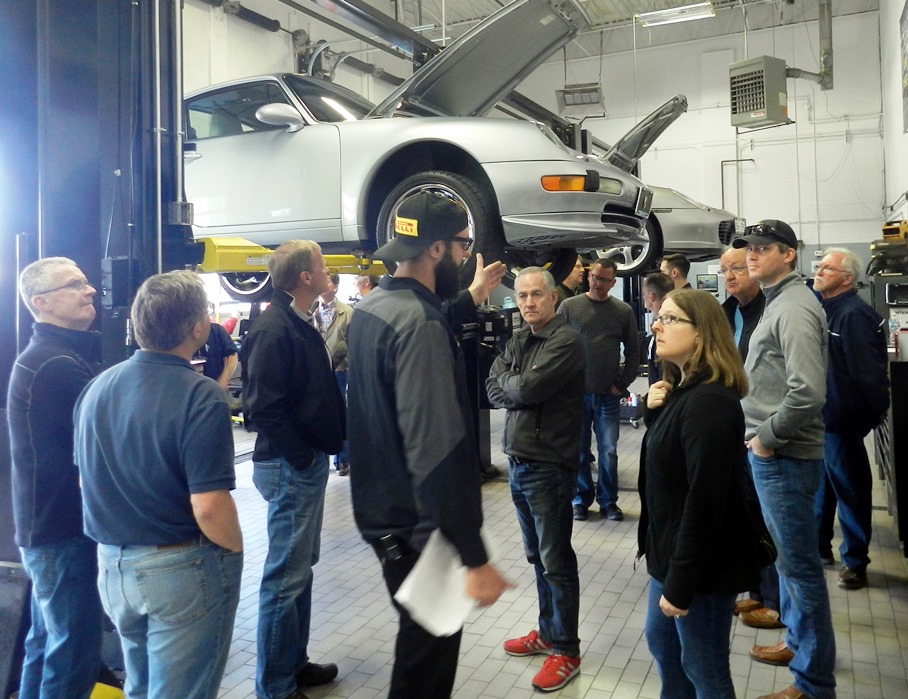 The club thanks Larry Mackowski – the general manager of International Porsche for allowing us to borrow his great facility and crew. Also, the club thanks Drew Putterman the service manager for International Porsche for working with me to get all of this scheduled. Finally, thanks to Nicholas (Nick) Ameen, International Porsche's ZPT Gold Technician and shop foreman. And a quick shout out to Jakub for giving up his Saturday also to be in the shop.
The morning started with a continental breakfast and light conversation as we gathered in the showroom for introductions and a few kind words from our region president Tony. The sales staff at International Porsche was available to answer questions of the fine selection of new cars and SUVs in their expanding sales area.
For those of you that were not aware, International Porsche is doing some expansion and some future remodeling. Their other marques of Maserati and Alfa Romeo are moving to their Hwy 100 location to allow for expansion. The show room will be growing from 4 or 5 cars to over a dozen in the coming months. Please stop by often to check on their progress and provide encouragement!
We toured the facility and saw what the future holds for International Porsche. Then it was off to the Garage for the fun stuff. Club member Tyrone was gracious enough to allow us to lift his pristine air-cooled 911 to help in the show along with a project 911 Twin Turbo Cab that was in for some serious repairs. The stage was set for almost 2 hours of great interactions between the club and Nick as he walked us through the classic side of Porsche and the latest programs that International Porsche have available.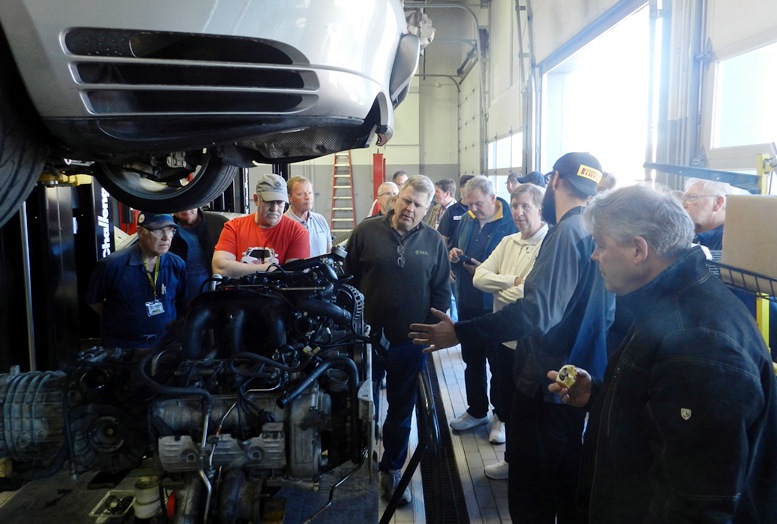 We reviewed the finer points and differences between the needs for caring for older air-cooled cars as well as more modern ones. We even snuck in a few looks at the 911 GT2 and GT3 that were in for service. The questions and topics that Nick presented and addressed were wide ranging. Everyone participated. The feedback I received throughout the day from club members was excellent – and Drew and his team look forward to our return.
By 1 p.m. the crew from International had educated and enthralled all that were in attendance. But they also had bigger plans – there was a second event on their plate for the evening as they had a special program planned for the introduction of the new Panamera at the Harley Museum that evening. This crew does not rest!
Drew closed out the shop tour with a few parting words and he shared with the club members via a lottery new 2017 Uncovered Porsche calendars.
The club took the opportunity to fill the dealership parking lot and take pictures in front of their shop – and we hope to return when their remodel is done.
After the thank yous and good byes were said – several of the club members met at Portillo's for some excellent food and a review of the great day.
Thank you again to all that participated and to the team at International Porsche - Larry, Drew, Nick and Jakub – we had a great time.
View more photos in our photo album here: http://tinyurl.com/n2ema9f
Photo credits: Donna Daufenbach and Mike Wiviott.

Posted on Monday, May 15, 2017 11:27 AM, updated on Monday, May 15, 2017 11:35 AM
Return to List of Journal Articles