What's fun about DE, aka Driver's Education?
by Terry Royals, DE committee
Earlier this week, I was asked by a member: What's DE
We hear this question a lot as most people think it's a chance to get on a track and drive fast. While this is going to happen…DE is much more! First thing we do is group drivers of similar track experience. For example:
If it's your first time, you get about 2.5 hours of track time, and will get a chance to start learning about:
Track safety
Proper seat and hand position
Looking ahead
Straight line braking
Brake point
Turn in point
Apex
Track out point
Flag meanings
Understeer and oversteer (certain Porsches are plagued with these issues)
Additionally, you will have several informative classroom sessions and get to share the track with your classroom instructor (he sees how you are processing the classroom material, with your instructor)
If you want to start the learning process sooner and get a few questions answered, come to the Novice (1st timer) program on July 13. Details are on our website.
If you are someone that only does a few track days a year, our DE is a great chance to keep your skills fresh (or relearn), get some coaching from an instructor, focus on areas of the track that you've struggled with or just learn more about you and your car.
If you a track junky, experience and car performance are under constant assessment. As an Advanced driver, you know the track and your car…Now you want to start looking for those "fine" adjustments that only come with seat time. If you are in this category, you will get at least 3 hours of track time, provided you volunteer to be an instructor.
So "What's DE?" It's a chance to drive at faster than normal speeds, learn the best way to brake, handle curves and leave with some driving skills you didn't learn in high school drivers ed.
Our DE event is set for Aug. 15. We hope you can make it. As always, if you have questions contact your DE committee at MilwaukeeDE@aol.com.
Register today: https://www.motorsportreg.com/events/pca-milwaukee-de-2019-road-america-168094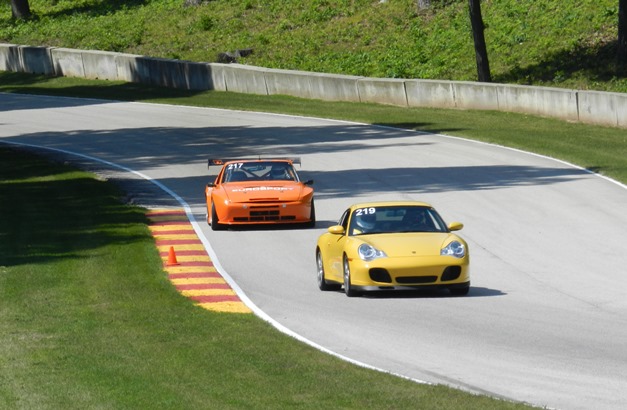 Posted on Thursday, May 16, 2019 7:41 AM, updated on Sunday, May 19, 2019 8:34 AM
Return to List of Journal Articles