Announcing Fall 2019 Driftless Area Tour
In October, 2017, several participants in that year's Driftless Area Tour requested that we repeat that tour annually, or at least every-other year, saying, "Those were some of the best Porsche-driving roads that we've ever been on!" You asked – we listened. We're going to repeat the tour in 2019. Specifically, so you can get the dates blocked out on your calendars, the tour will start on Friday, Oct. 18, and run through Sunday, Oct. 20, 2019.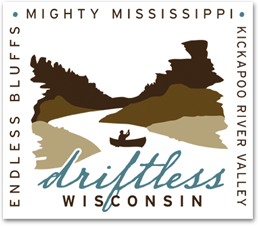 As enjoyable as the roads were in 2017, this year, we'll be driving a "new and improved" route. We've kept the best of the best roads, eliminated the roads only rated "good," and added more great roads. We think your Porsche will enjoy them!
Once again, our headquarters for the trip will be the Radisson Hotel, on the Mississippi River, in downtown La Crosse, Wis., where we'll be spending Friday and Saturday nights. The hotel has been most accommodating, even blocking out an area in their parking lot reserved exclusively for Porsches. Details regarding room choices can be found below.
We'll have a group lunch on Friday at a restaurant we'll reach a couple hours after the start of our drive. Friday night's dinner will be a casual group affair in the Three Rivers Grill within the Radisson. Throughout the trip, each participating person/couple will be responsible for paying for their own meals. There will be no trip costs that will need to be paid in advance.
Saturday morning after an on-your-own breakfast at the Radisson, or at another place of your choosing, we'll depart for a 60-mile drive on more of those Porsche-centric Driftless Area roads. At noon, we'll arrive at a wonderful farm-to-table restaurant that we learned about on PBS' Wisconsin Foodie, for our lunch stop. After lunch, we'll mosey back to La Crosse on yet more Driftless Area backroads. We should return to LaCrosse by mid-afternoon, in time for you to explore the city, visit a nearby winery, or brewery, or just unwind at your leisure. Saturday evening, there will be no planned group dinner. You can have dinner on-your-own at a restaurant you choose to be as casual, or as elegant, as your tastes dictate. Please consider inviting long-time, or newly made Porsche friends to join you. We may meet up afterwards for an ice cream cone at the Pearl Street Confectionary just a block from the Radisson.
Sunday morning, breakfast will be on you own. There will be no planned drives, or other group activities on Sunday. You are free to return home via the fastest route, or if your Porsche is yearning for more back roads, you may give it free reign to seek out roads it prefers.
The Radisson is offering us two room options: 1) a city-view room with 1 King bed at a rate of $151 per night, or 2) a river-view room with 2 Queen beds at a rate of $161 per night. We have checked rates on Radisson's website, and on other travel-related websites, and the lowest prices found were $200 per night, so our group has been given a significant discount. The Radisson was remodeled from top to bottom about 3 years ago, and is very nicely updated. The Radisson will be set up to accept our reservations early in the new year. Stay tuned for more details.
Learn more about the Driftless area
https://driftlesswisconsin.com/2011/02/22/exploring-the-driftless-wisconsin-map/
Posted on Tuesday, November 6, 2018 7:17 AM, updated on Tuesday, November 6, 2018 7:42 AM
Return to List of Journal Articles